ORIGINA Tamar Raisin Flavoured Milk – 200ml
RM88.00
200 ml per pouch
25 pouches per carton
Minimum order quantity: 1 carton
Product Code: ORI-CU20220004
Recommended Retail Price per unit: MYR 2.90
ORIGINA Tamar Raisin Flavoured Milk– 200ML
Product Code: ORI-CU20220005
Description
Innovative R&D using premium ingredients
100% using imported Australian Milk which is specially tailored as Australian Fresh Milk profile.
Using Raisin fruit grown and cultivated from California, USA finest plantation region
Additional Saffron element to the milk to complete as Ramadhan comfort drink. Saffron milk is usually treated as calming drink as it offers varieties of health benefit and warmness. ​​
Benefits
No artificial coloring
No artificial preservatives
High in Calcium: Calcium support in teeth and brain development (crucial for kids' development).
High in Vitamin B3 (Niacin): is needed for energy release from carbohydrate, protein and fat. (Highly important as energy supply during fasting time).
No SUGAR is added. Sweetness comes naturally from dates and raisin itself with addition of no calories sweeteners to lower the amount the total sugar content delivers to body.
No cholesterol, colouring or preservatives added. Suitable for all age group (kids >2 years old).
Good Source of protein. Complete 8% of protein requirement per day.
Per 200 ml contains:
Energy = 96 Kcal
Cholesterol = 0 mg
Fat = 0 mg
Calcium = 310 mg
Vitamin B2 = 0.26 mg
Vitamin B3 = 11.6 mg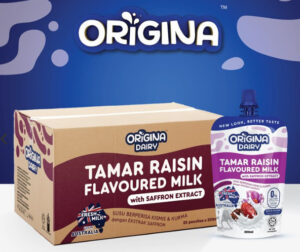 Carton box packaging.
Picture shown above are for illustration purposes. Actual may differs.